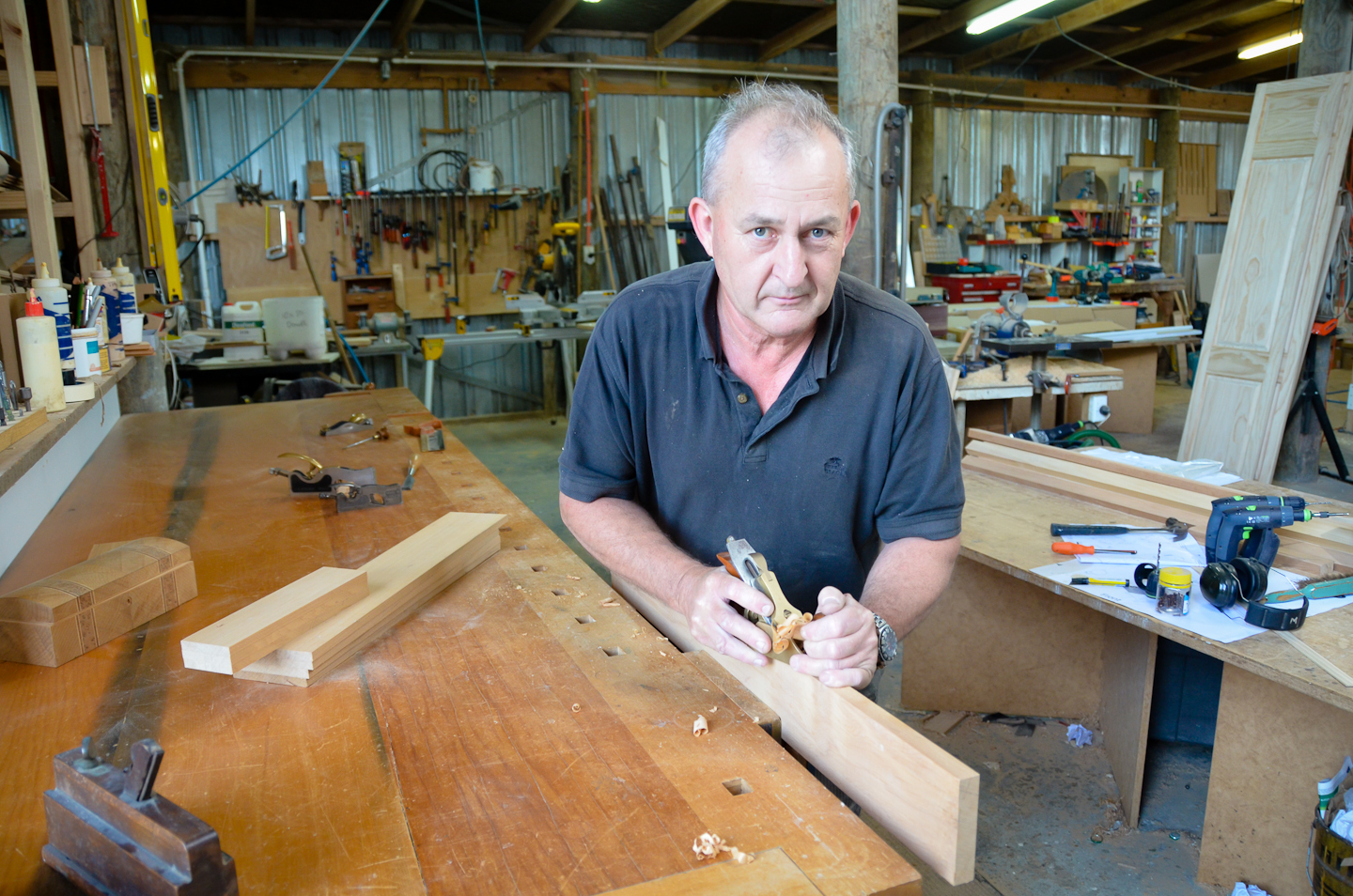 A love affair with native NZ wood
Mark Lester, like many artists, is a man more readily understood through his work than anything else.  His pièce de résistance comes in the form of a personal workbench, which boasts a solid kauri bench top surrounded by 17 different types of native NZ wood.  Mark took many classical European influences in the design of his masterpiece, all combining within his mind to form what he proudly calls "the ultimate workbench".
This method of 'seeing' the finished product before completion is a gift Mark has had since his early days building balsa wood gliders from kit-sets at the age of 7.  From there he went through his schooling and found himself to be quite adept at mathematics, without realising the importance his knowledge of angles and vectors may have in his future career.  After completing his education Mark moved further north to Hokianga and found himself living in a 100 year old farm house on the outskirts of the Waipoua Kauri forest.  While cleaning a century's worth of filth and grime from the ceilings and floors of his new residence, Mark discovered the beauties of New Zealand wood for the first time.  When the dust was finally banished from the surfaces of the antique home, a golden lustre was discovered, revealing the ceiling to be native Kauri while a deep red hue betrayed the floorboards as Totara.  Mark fondly recalls this experience as the start of a love affair with native NZ wood.
After returning to Auckland in 79' he began restoring furniture for his mother Heather in the back of her new shop, 'Carriage Trade Antiques'.  Mark's willingness to learn the trade and obvious talent with restoration eventually led to the opening of another store 'Carriage Trade Restoration' in Ellerslie, the following year.
The process of observing a battered piece of furniture being returned to its former glory, and being the driving force behind the transformation is something that Mark still appreciates after all these years.
Nowadays Mark creates custom luxury furniture for private and corporate buyers across the world.  His unique NZ influence on woodcraft has earned him contracts with everybody from members of the film industry to members of parliament, and even a Prime Minister.